Pros and Cons
| | |
| --- | --- |
| PROS | CONS |
| Low options contract fee. | Average trading platform. |
| Low margin rates. | High account fees. |
| International account options. | Limited educational resources. |
| Automated trading. | |
| Free paper trading software with $100k paper money budget | |
Full Review
EOption specializes in options trading and it shows in the broker's pricing: The company charges $1.99 per trade where other brokers charge $0, but the rock-bottom 10 cents per contract fee makes the total cost per trade competitive for those trading four contracts or more. The company also offers $0 commission stock and exchange-traded-fund trades.
eOption is best for:
Advanced traders.
International investors.
Low options contract fee.
Low margin rates.
Automated trading.
Where eOption shines
Low options contract fee: Many brokers now charge no base commission for options trades, so traders only pay the per-contract fee, which frequently costs around $0.65 per contract. At eOption, the cost to trade options is $1.99 plus a per-contract fee of 10 cents. What that means is investors who frequently trade four or more contracts in a single trade will come out on top at eOption.
Also of note are the broker-assisted trade costs, on stock, options and ETF trades: an additional $6 in most cases, which is cheap compared with other brokers' $20 to $25 surcharge.
Automated trading: Part of eOption's target audience is investors who use automatic trading based on newsletter suggestions. How this works: Account holders subscribe to one of the roughly 60 participating newsletters, then authorize eOption to automatically execute recommended trades from that newsletter. Customers can choose the maximum amount per trade — based on dollar amount, number of contracts or percentage of account value — and change their auto-trading subscription at any time. The cost is $2 per trade for equities and $2 base plus 10 cents per contract for options.
Is this a good strategy? That's debatable. When trades are triggered automatically by a newsletter trading alert, investors have no time to review the order before it's executed. But if you frequently follow the directives of investing newsletters that participate in eOption's service, putting things on autopilot might be appealing.
Paper trading: For investors new to trading (and especially options trading), eOption has an attractive feature: a free paper trading tool, which is available even to nonclients. This gives investors $100,000 in virtual cash to use as they research and evaluate trading ideas, test strategies, actively monitor a simulated portfolio's performance and create a watch list — all without putting any real money on the line.
Margin rates: Margin traders, take note: eOption has some of the lowest margin rates available. As of late 2019, the base rate for account balances of less than $25,000 was 7.75%. That drops to as low as 4.75% for balances of $250,000 and above.
International investors: The broker allows non-U.S. residents from some countries to open an international account. (Those countries are Australia, Austria, China, Germany, Ireland, Luxembourg, Mexico, the Netherlands, New Zealand, Singapore, South Africa, Switzerland, England, Northern Ireland, Scotland and Wales.) Accounts can be opened with a minimum of $25,000 in any combination of cash and securities.
eOption Online Experience: eOption customers now have access to the company's new eOption Trader platform for a more hands-on trading experience.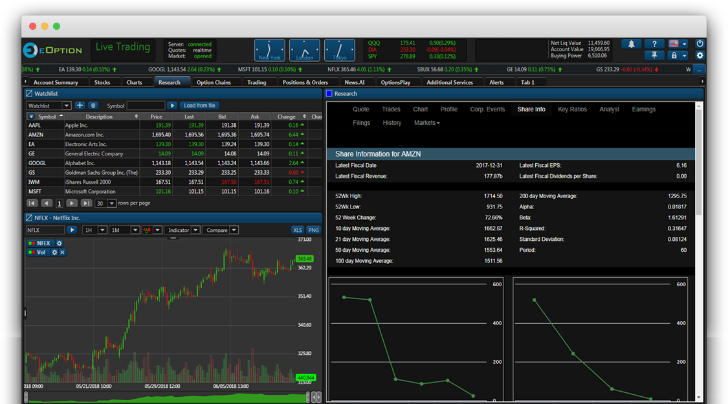 Through this platform, you can easily buy and sell, create a watchlist of stocks to keep an eye on, compare stocks to each other, keep up with market news and track the performance of singular stocks on an interactive graph. You'll also have access to research data like ratios, analyst reports, income statements and balance sheets. eOption also offers a new tool called OptionsPlay in your trading platform, which allows you to trade, explore and analyze options in one advanced interface.
Should you get stuck or need some guidance in navigating this platform, eOption provides a number of helpful walkthrough videos. There are videos to walk you through charting, carrying out stock orders and entering option trades.
eOption Mobile Experience: Want to take your trading on the go? Download the eOption Mobile app so you never have to be away from the markets. You'll have constant access to your accounts, trading platform and the order status of stocks, ETFs and options. The app also streams quotes and market news and includes an intuitive charting tool to help you make educated trades.
You can log into eOption Mobile with your User Name and password that you use on the desktop website. Once you're logged in, you can see all the accounts you have linked to that User Name. Note that you cannot trade in extended hours on eOption Mobile.
eOption Customer Support: You can contact an eOption representative in a few different ways. During business hours, you can reach a representative through the live chat system. If you don't need to speak to someone immediately, you can fill out a form online to send an email. To give them a call, you have a few different phone numbers available, depending on whether your call is concerning a new account or for general customer service. You can reach a representative over the phone Monday through Friday from 8:00 a.m. to 8:00 p.m. EST. You may also choose to send eOption mail at their mailing address.
Where eOption falls short
Trading platform: One common piece of feedback with eOption customers remains its propensity to occasionally glitch or crash. However, when compared with other brokers' apps, eOption's has more functionality, with real-time quotes, charting and the ability to execute multiple order types.
Fees: Individual retirement accounts are charged a $15 annual fee, and the broker charges a $50 inactivity fee on accounts that go 12 months without at least two executed trades or have less than $10,000 in credit or debit balances. Although not a deal breaker, it remains something to pay attention to as you begin comparing broker options.
Educational resources: The offerings are definitely geared toward a more knowledgeable trader. Advanced traders will appreciate the breadth of analyst reports, corporate filings, calendars of earnings reports and economic reports and a service that aggregates news related to companies, industries or people for trade research purposes. But beginners will be left wanting more. Again, eOption is positioned for advanced investors who may not miss this information, but other brokers provide much more support.
Is eOption right for you?
Focused on providing a low-cost experience for active traders, eOption fulfills its mandate, especially for options traders. Those willing to pay more in commissions at other brokers can find more robust platforms and more investment guidance. But for active and cost-conscious options traders, eOption is one of the best choices.